Category Archives:
Life Story Necklaces
My clients Life Story necklace
She has very kindly sent me this testimonial :-
'I first met Helen and saw her beautiful jewellery on a visit to her shop at Melbourne.
I loved the idea of using some of the jewellery my Mum had left me which had sentimental value but was not to my own taste.
I decided to have a special necklace made and wanted it to be a symbolic representation of happy memories, family friends and even pets!
After discussing my own thoughts with my husband and grandson Joseph, I met with Helen to discuss how my ideas could be incorporated into a necklace.
Helen then produced a beautiful design, which was perfect.
I must admit I was nervous when the day arrived to collect it, but my nerves were needless.
My necklace is absolutely stunning, I was overwhelmed! it was gorgeous, it reminds me of my Mum and Dad and all things precious to me, and of course it is unique.
I know for sure my Mum would have loved it,
I've had a lovely , happy and positive experience thanks to Helen's incredible talent, patience and her eye for detail.
I loved making it for you, and am thrilled that you love it too, thank you very much for the commission.
Helen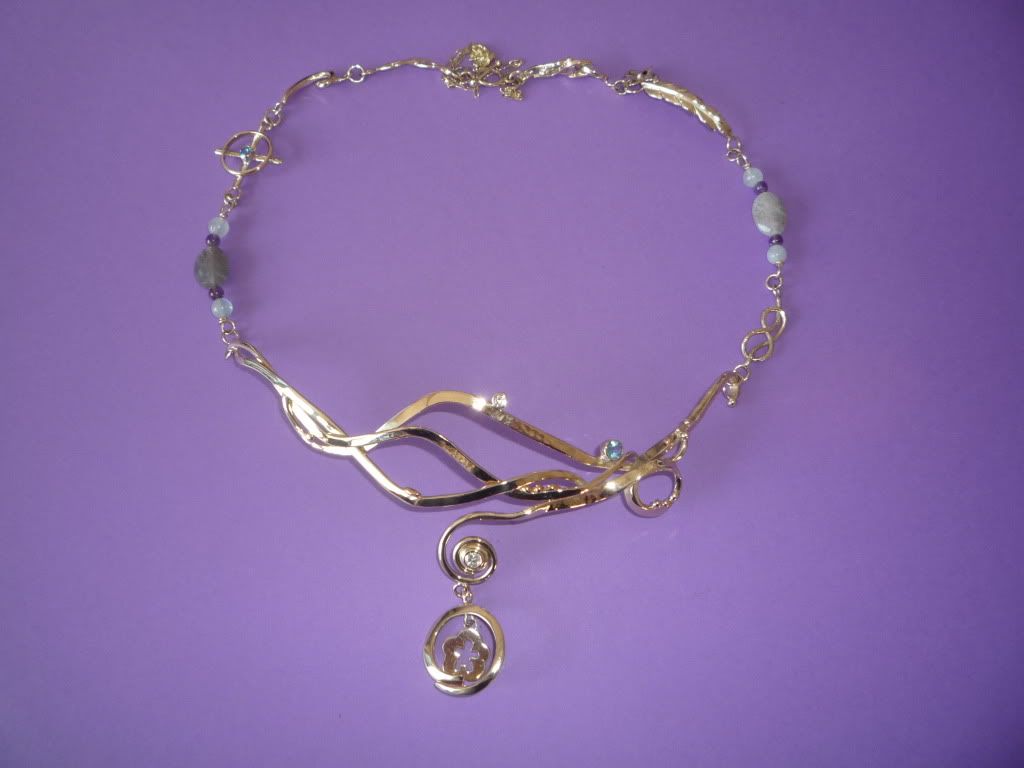 I have been a jeweller for many years and enjoy making varied styles of jewellery. I am able to interpret the requirements of my customers and can create unusual pieces to order. The necklace shown here, however, is another, different, aspect of my work.
I wanted to create some jewellery that was more than just decoration, and to personalise it, so that it carried meaning for the person who owned it, and held interest for others. Something that expressed both a spiritual and a symbolic meaning. I have often thought how interesting Victorian and Egyptian Jewellery is for that reason.
This piece illustrates that idea. Join me as I tell the story of a simple but special journey…..
Our journey begins at the point where you leave home and travel, anticipating the future, along the roads to the sea…..
Then you arrive at the beach, and breath in the fresh Sea air…..
…..just taking time to walk along intently looking down, searching the pebbles for that special stone, the one that stands out as yours alone.
You pick it up and feel its smooth shape in your hand, and look at the wet bands of colour shining through, and you slip it into your pocket as a keepsake.
Walking along the beach you are thinking about your life…..
…..and come to a rock pool where the blue of the sky is reflected back to you. Looking into the colour you see myriad life forms living, oblivious to your presence.
A little further on as you come to the Sea you track rivulets carved into the sand and cross the pathways of footprints others have left on their journeys.
You see pools of water resting amongst the rocks and feel the hard ribbed sand beneath your feet. In the distance you catch sight of a large rock set back from the shallows and decide to sit there for a while…..
On the far side of the rock a torn piece of fishing net lies on the sand, you spend time sitting looking out to Sea.
Questions asked….. waiting for answers, each one expected on the seventh wave and gathered in the net, into one precious gift to take with you.
You have lost all sense of time, but suddenly feel a chill wind as the sun begins to set. You have your gifts of knowledge but still feel a restlessness within you…..
….. as you come to the edge of the cliff to begin the climb up steep steps carved into the rocks; the tide flows and swirls around your legs, knee high.
You pull yourself up, past a golden starfish, by the ropes anchored into the cliff.
A sandy path edged by marrom grass leads you up to the top of the cliff where you stand and gaze at the sunset, reluctant to leave such a timeless place. So the journey home is taken by the longest route…..
…..as you feel the need to stretch your holiday to its limits….. even so there is a sense of relief as you finally reach your front door, home again.
Turning the key to open the door you see your SELF in the hall mirror and realise the future….. is inside you….. as you are the Creator….. of your Own Reality.