This is a pendant I have created which is a very old symbol for protection, otherwise known as the hamsa, it is an ancient Middle Eastern symbol designed to give protection from the evil eye, Today it shows up in both Jewish and Muslim culture. The hamsa consists of a hand, with fingers pointing down and the hand usually, but not always, appears to have two thumbs.
This was a very intricate piece to make and I now have a mould of it, so it can be ordered in any metal.
On its own without a chain in silver it is £35.00, with a chain approx £55-60.00 depending on the style of chain chosen. gold versions would be quoted for on request.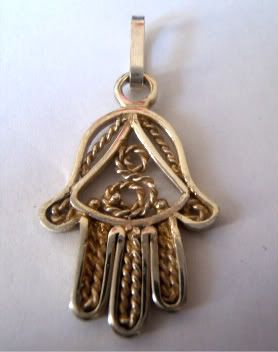 Please telephone me on 01509 239348 or write to me if you would like to order any of these items