Amethyst and peridot pendant in 9ct yellow gold with 16 inch Figaro chain
Price: £350.00 ( This one now sold) any combination of stones can be made into pendants for you, I have recently made a sapphire and diamond version, but with oval sapphires, to create a different look. If you can think of your favourite colours, there is usually a precious stone I can use to make it up. Sapphires come in pink, yellow, and white as well as blues of various shades, and there are many other stones such as tourmalines, garnets emeralds opals etc. to choose from.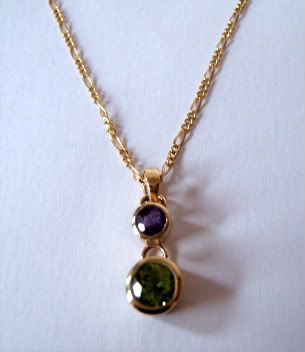 Please telephone me on 01509 239348 or write to me if you would like to order this pendant.
Read more detailed information about the metals and stones available for making rings.,